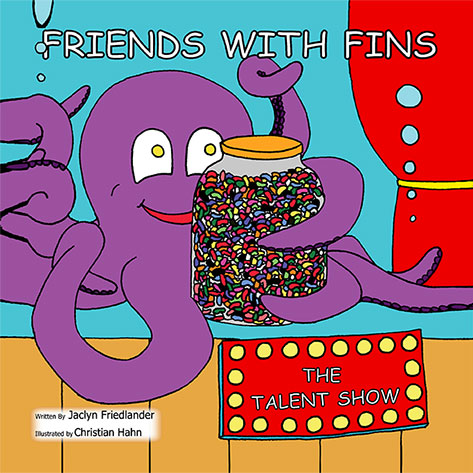 Friends with Fins
The Talent Show
Friends with Fins
The Fish Capturing Pirate
Friends with Fins
Goodnight Midnight Ocean
The sea animal students at Kelp Forest Elementary School are having a talent show! Marine Messengers, Adam and Amanda, are judging the event and the winning act gets a one year supply of jellybeans. Who will 
win the grand prize?
Evil pirate, Captain Anchors, is stealing animals out of the ocean to sell so he can keep his ship lavish. Will the Marine Messengers and their ocean creature friends be able to rescue the animals and return them to the ocean?
Dana the Dumbo octopus is trying to fall asleep. Her senses are awakened as she is distracted by other ocean animals. Can the Marine Messengers help Dana fall asleep?